The Dangers Of Silica Dust & Australian Worksite Solutions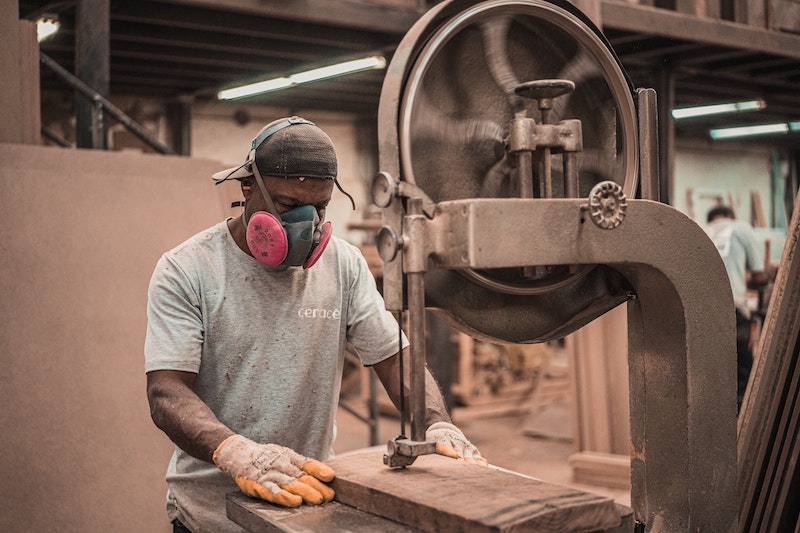 Oftentimes things that are most harmful to people are unseen to the human eye (think, asbestos, carbon monoxide!). Well we have a new unseen airborne toxin that must be exposed. This invisible killer goes by the name of, "silica dust."
Silica is a common mineral that is found in diverse materials you'll find on most construction sites and work sites where there's sand, rock, masonry, concrete, soil, etc. So why is it so dangerous? How does it get in the air? And how can we protect ourselves from it? People perish for a lack of knowledge, so here is some information to help keep yourself and others safe from silica dust.
---
What is Silica Dust
Far from the everyday dust you clean off nooks and crannies of your home or business appliance, silica dust (sometimes called, "quartz.") is a much smaller and more dangerous dust. 100 times smaller than a grain of sand, silica dust is a miniature substance that contains crystalline silica particles. It gets airborne when you cut, drill, saw or work with any of the materials that contain it.
And it only takes a small amount of respirable silica dust particles present in the air to become a potentially fatal health hazard. Silica dust creates a risk of lung cancer and other serious lung diseases such as silicosis and even kidney disease.
---
Why Silica Dust Is Being Called, "The New Asbestos"
One of the biggest reasons silica dust is so dangerous is because it's present at any job that involves grinding, sanding, crushing, or drilling concrete walls, stone, and any of the many materials in which silica dust is produced from. Big clouds of dust and construction sites go hand in hand. Always have. Well sadly, chances are high that those dust clouds contain these harmful silica dust particles. Even more so now with power tools, but silica dust is also produced when working with basic hand tools.
"The use of handheld and stand-mounted drills, impact and rotary hammer drills, and similar tools used to drill holes in concrete, masonry, or other silica- containing materials can generate respirable crystalline silica dust. When inhaled over time, the small particles of silica can irreversibly damage the lungs." – OSHA
Breathing in silica dust can cause serious bodily damage, even death. The chances of getting sick from exposure to silica dust depends on the work being done, and the amount of dust you are exposed to.
Each exposure to silica dust adds up to the total amount of silica in your lungs. It starts "piling up" so to speak. Its small particles enter the lungs and cause scar tissue to form, reducing the lung's ability to process oxygen. Silicosis can then occur. This affects your lung function and can eventually lead to lung infections such as tuberculosis.
"Exposure to crystalline silica dust causes multiple diseases, but silicosis and silica dust-associated tuberculosis (TB), in particular, are the two diseases that remain high on the list of occupational health priorities in low-income countries and that still occur in some high-income countries." – Pub Med
Here's a list of illnesses and symptoms that can be caused by breathing in silica dust:
Silicosis
Fatigue
Chest pain
Emphysema
Respiratory failure
Shortness of breath
Chronic obstructive pulmonary disease
Lung Cancer
Death
---
What materials create it?
As we said before, silica is one of the most common minerals on earth.
There are two forms of it:
Crystalline
Noncrystalline.
Crystalline silica is a bigger danger to our health, but both can cause harm. Both are found in many materials worked on in Australia today:
Stone
Soil
Sand
Concrete
Mortar
Brick
Tiles
Some plastics
---
What are the regulations in Australia for Silica Dust?
In a 2011 Australia study, it was discovered that approximately 587,000 workers were exposed to silica dust. Calculations say that 5758 of these hard-working men and women will now develop lung cancer during their lifetime due to their excessive exposure to silica dust.
Even though Health and Safety laws in Australia vary between states and territories, they are similar throughout the country. Both employer and employee play a part in staying safe while working. Employers are required to ensure a worker has a safe and healthy workplace. And workers themselves are responsible to take care of their health and the health of others on the work floor. If correct measures are not being applied, then anyone working around silica dust has an increased risk of developing lung cancer.
According to cancer.org.au employers should eliminate or at least reduce the exposure to any health hazard.
Working With Silica Containing Products In Australia
Employers are required to ensure the health and safety of their workers and others at their workplace.
Employers have a duty to control the risks associated with work.
Workers must take reasonable care of their own health and safety, must not negatively affect the health and safety of other people and follow any reasonable instruction and workplace health and safety policies.
---
Safe Work Australia's Silica Monitoring Guide
Safe Work Australia has a silica monitoring guide outline to help monitor worker health. This can help detect lung problems before serious damage occurs. It should be done at least once every three years and yearly for high risk jobs.
Health monitoring should include things such as records of personal exposure, collection of demographic and medical history and standardised respiratory function tests such as FVC and FEV1
Are you a worker in related fields and want more information on health surveillance? You can read more about health monitoring in the "worker's guide to health monitoring."
---
Air Quality & Silica Dust
Limit for silica dust in Australia is 0.1mg/m3 averaged on an 8-hour day. The American Conference of Governmental Industrial Hygienists (ACGIH) recommended limiting it to 0.025mg/m3.
Even though measuring and limiting silica dust presence in the air gives us numbers to look at, there is no evidence to support any safe level of silica dust exposure.
Workplace Silica Dust Exposure Standards
In 8 hours of work time the workplace exposure standard for crystalline silica should never be greater than 0.05mg/m3. Safe Work Australia prioritizes this workplace exposure standard.
Worker's exposure to respirable silica dust should be kept as low as reasonably practicable by the PCBU (Person conducting business or undertaking). If there is any doubt and health might be at risk then air monitoring needs to be conducted.
For additional information and downloadable PDFs with good information on this issue, you can visit their Silica Dust resource page here.
---
Regulations on worksites worldwide
United States of America
The Occupational Safety and Health Administration (OSHA), an agency of the United States Department of Labor has issued two standards for silica dust. One for construction sites and another for the maritime industry.
In the standard for construction there is a helping table to help employers measure workers' exposure to silica dust and decide which measures they need to take. This helps to make a decision whether or not a respirator would be needed.
Standards for industry and maritime requires employers to assess employee exposure to silica dust if it's above an action level of 25 µg/m3 per 8 working hours. Employers must protect workers from the silica dust as much as possible. The exposure limit is 50 µg/m3.
Worker's in the United States have a right to safe working conditions. They also have a right to receive information and training about all workplace hazards, and how to prevent health risks. American worker's can review records of work-related injuries and can file a complaint asking OSHA to inspect the workplace if they are at all suspect of the working conditions they're in.
---
United Kingdom
Over 1,000 workers in the United Kingdom (UK) die each year due to silica dust exposures. Many more are left with respiratory issues and illnesses. The exposure standard in the UK is the same as in the US, 0.1 mg/m³.
European Commission's expert Scientific Committee on Occupational Exposure Limits (SCOEL)(3) in 2003 recommended an official exposure standard "should lie below 0.05 mg/m³ of respirable silica dust."
The Control of Substances Hazardous to Health Regulations 2002 (COSHH) makes employers obey the rules and follow the guidelines such as:
Keep a written record of the risk assessment
Provide workers with personal protective equipment
Instruct and train workers how to use equipment
Warn workers about health hazards
Monitor and ensure that the WEL for RCS is not exceeded. (Dust levels)
---
Better safe than sorry
No matter where in the world you live, silica dust is present on construction sites and other workplaces. It's really dangerous and can and will affect your health. As a worker you should stay safe, take precautions and always use safety equipment such as properly fitted professional dust masks and respirators, and air ionisers such as made by Janser.
View our Janser Germany Air Ionizers available at Kevmor, here.
If your safety and the safety of others cannot be assured, then that job should be rejected and work should be halted until this safety can be assured. This can be exclusively silica dust related.
You can always contact Safe Work Australia and ask for advice or inspection of your workplace.
If you're an employer you need to be sure that you are not putting money before the health of your workers. We've seen this happen time and time again, so it's worth saying.
Providing your workers with personal protective equipment (PPE) and making sure to take all other precautions, such as air monitoring, is now an essential step considering we now know about the extreme dangers of silica dust.
---
Thanks for coming by the Kevmor Trade Supplies Blog!
Come back soon to view our next article on this subject which will overview each product you must have to make sure your worksites pass inspections and more importantly, keep you and your employees and contractors safe on the job.